We have a county fair every year in my hometown in Indiana for Labor Day called the Blueberry Festival. We are the county seat so we get to host this fun event. It is your usual fair with rides, tons of yummy food, and lots and lots of booths to check out. Unfortunately, there definitely was never a quilt contest and it seems such a shame. That would have been so neat to see and might have piqued my interest in quilting long long ago.
I doubt I will ever make a quilt amazing enough for a real quilt contest at a fair, but I'm happy to link up one here: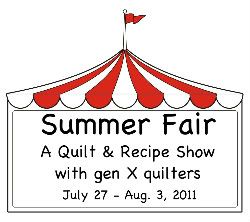 Here is the quilt I have chosen, nicknamed "The Blue Beast"
This lovely monster was a Father's Day present for my dad this year which I delivered in person over 4th of July weekend. It is my first king sized quilt and maybe my last haha. It took me around 4 months to make this quilt, start to finish, including quilting it on my home machine. I learned A LOT about my machine, quilting, the value of spreading the quilting process out over a long span of time instead of marathon quilting sessions, and lots of "what to do better next time" tips. Its not my best work, but I am proud of what I learned and proud of how it turned out in the end inspite of the many challenges I faced during the process.
My dad loves it, it keeps his bed looking pretty and him warm at night, so I guess I can't complain :)
Hope you like "The Blue Beast" and hope you enjoy checking out all the other quilts being showcased!